The ICU System range responds to the new market demands in terms of safety, quality and asepsis in areas of intensive care, isolated, burned areas, infectious …
Grupsa launches its new range of Door Systems for Intensive Care ICU System, a product line designed and manufactured according to new clinical technologies for differentiated units (boxes) in the area of ​​Intensive Care, Isolated, Resuscitation, Burn area … through standard and customized solutions tailored to the requirements of the hospital facility, integrating elements of security, isolation and antibacterial control.
The products in the ICU System range present the highest safety, quality and asepsis features to prevent the spread of pathogens in patients who require greater attention and care from healthcare professionals, in accordance with the strictest European regulations, such as For example, the regulation (class 4) UNE-EN 12207: 2000 to favor the difference in positive pressure and negative pressure, in isolation units for immunosuppressed or infectious patients respectively.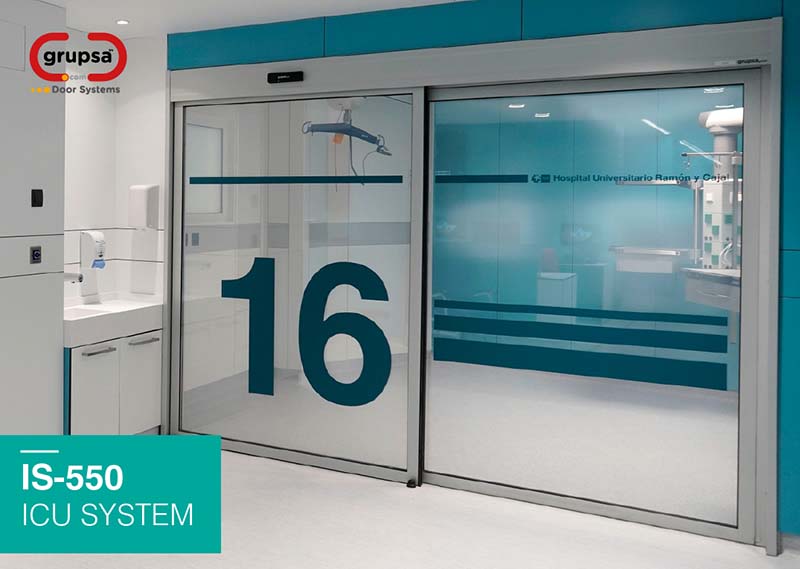 Grupsa's UCI System access systems allow safe and efficient entry for healthcare professionals and bedridden patients with boxes with manual or automatic opening or the incorporation of Smart Glass or Venetian blinds between glasses, to regulate the entry of light and activity to reduce the vision and activity from outside, preserving the privacy and environmental atmosphere of the patient.
The system includes two differentiated models: the IS-550 model, with sliding opening, and the IS-550 CP model, with total folding of the leaves to expand the passage space for hospital beds, without floor guides. Both models can be manufactured in manual and automatic version. The universal Thermo profile, with thermal break, allows single and double glazing to be configured with the same aesthetics.