Our modular and customizable system
Clean System
is the optimal solution for Operating Rooms, ICU and Clean Rooms. It represents a new way of working for customized adaptations, new installations or reforms of existing surgical blocks. Each project is designed and manufactured according to the highest quality and strict
European regulations
on
antibacterial safety
and hermeticity to ensure that the climate system and asepsis are maintained in the whole white area.
Modular and flexible system for each hospital project
Reduced periods of design and execution
Flexibility to make modifications afterwards
Antibacterial characteristics
High certification in antibacterial matter, radiological protection, fire resistance and acoustic insulation
Intuitive integration of medical equipment and supplies
Accessible maintenance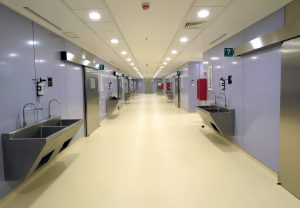 New Dr. Antonio Tirado Lanas Ovalle Hospital (Chile)
APPLICATIONS
Hospital centers Operating rooms Critical areas ICU Surgical radiology areas Clean corridors Clean rooms
SUBSTRUCTURE WALLS AND CEILINGS
Our modular system and customizable
Clean System
is based on a
self-supporting substructure system
, on one or two sides, where the walls and the pressurized ceiling are fixed. It is manufactured with steel profiles for free height of up to 4 meters and with easy access for subsequent maintenance. Wall panels are custom designed, depending on the most suitable modulation. They can be manufactured in Stainless Steel, laminated HPL antibacterial or glass, the spaces being sealed between them by an antibacterial seal. In addition, they can be designed with photographs or graphic images. The equipment (technical panel, screens, climate, etc.) are incorporated in a simple way. In addition, for those cases where
radiological protection
is required, the panels can be manufactured with lead protection. It incorporates conductive vinyl floors and climate system with
HEPA filters
.
ACCESS AND TRANSFER OF MATERIALS
Our Clean System range includes extensive access possibilities to the surgical block, as well as modules for UCI boxes and solutions for clean areas. The
access doors
will be designed according to the needs established in the specifications of the project or the memory of the work. They can have swing or sliding opening, with antibacterial finishes and easy cleaning, ensuring adequate pressurization of the clean room and efficient use by staff. Likewise, the transfer of surgical materials and supplies is carried out by guaranteeing the
pressurization of the surgical or pre-anesthetic block
, by means of small openings or in a lock (guillotine window or transfer in lock with sterilizing properties). In addition, we have
observation windows
with glass flush with the surface of the panels and protection for radiological needs.